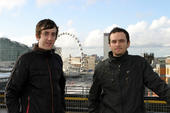 Biography
As an established DJ with several years behind the decks, Adam Unsworth had always wanted to move into production. Graham Lord at this stage was already producing his own music. They crossed paths at legendary club Out In The Sticks during 2000 and almost immediately Manchester gave birth to the Audiowhores.
When you learn that their musical influences include, amongst others, Dave Lee, Knee Deep, Masters At Work, Full Intention and a certain JazznGroove, its really no great surprise that these two talented guys have knocked out some fanatastic productions and remixes over the last few years.
Following their superb remixes of John Julius Knights Find A Friend and Jazz Transits Steppin Out 2003 saw The Audiowhores debut release for Soulfuric Deep. After The Party featured the vocals of Blu and proved one of the biggest dance-floor hits of the year. As 2004 rolls in this is to be followed by the eclectic, afro influenced Nekoosa which hits the shops in February.
Their career to date also includes releases for The Pound Boys Denver based Look At You Records as well as Mousse Ts highly influential Peppermint Jam label. Indeed they have further recordings lined up for both these labels as well as Grahams solo work as Word of Mouth.
Not content just producing and remixing for some of the industrys finest labels, Adam and Graham have stretched themselves further with a demanding, but rewarding DJ schedule. This has seen them play a variety of venues across Europe and the USA. Within the UK they have played at many of the best known clubs including Out In The Sticks, Angel Deelite, Cookie Dough, LAmerica, Blend and Traffik. Worldwide their recent schedule has included gigs in Switzerland, Holland, Austria and New York, and this only scratches the surface. Amazing though it might seem, on top of all their DJing and production commitments the guys still find time to provide unswerving support to those other Manchester high flyers with regular visits to Old Trafford.