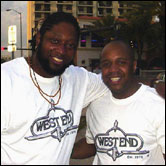 In English
Taken from 2mybeat.com :
Blaze is comprised of singer / songwriter Josh Milan and producer / engineer / DJ Kevin Hedge. This songwriting / production team has been recording dance-oriented music for over 20 years, and is considered by many of dance music's elite to be pioneers of the soulful house genre.
In 2005, Blaze wrote and produced the international hit "Most Precious Love" feat. Barbara Tucker, which landed them the U.K. House Music Awards "Song Of The Year" and shot up to a NO.1 position on Billboard's Hot Dance Club Play Chart.
In 2006, Blaze authored the song "One Dream," which was performed by Grammy Award Winner Louie Vega & The Elements Of Life Orchestra in front of millions of viewers around the world during the opening performances at Super Bowl XLI.
Blaze are one of the artists I prefer in the house scene. When I feel a little sad having a hard day, their messages plenty of good vibes are making myself better… Enjoy this mixshow. It is only 20 songs of their discography. I hope you will enjoy.
En français
Honteusement pompé et traduit du site 2mybeat.com :
Le groupe Blaze est composé de Josh Milan qui chante et qui écrit les chansons ainsi que du Dj Kevin Hedge. Cette équipe de compositeur / producteur écrit des chansons depuis plus de 20 ans, et sont considérés comme les pioniers du genre soulful house.
En 2005, Blaze a écrit et produit le tube international "Most Precious Love" mettant en vedette Barbara Tucker, ce qui les propulsa comme "Chanson de l'année" aux Music Awards en angleterre et N° 1 dans le classement des clubs.
En 2006, Blaze a été l'auteur de la chanson "One Dream", qui a été interprétée par Louie Vega & The Elements of Life Orchestra devant des millions de téléspectateurs tout autour de la planète durant l'ouverture du Super Bowl 2006.
Les Blaze font partis de mes artistes préférés dans la scène house. Lorsque je me sents triste après une dure journée, leurs messages pleins de bonnes vibration, la musique groovy me régènèrent. J'espère que vous aprécierait ce mixshow. Il y a seulement 20 chansons de leur énorme discographie.
More links / Plus de liens
Josh Milan Myspace
2mybeat Myspace
Blaze Imprintz
Photos and videos on Univers DJ
Kevin Edge Interview in Paris
Playlist
Louie Vega feat. Blaze – Love is on the way (Roots)
Barbara Tucker – Most precious love (Blaze Shrine Vocal Mix)
Blaze Presents James Toney Jr Project – Elevation (Shelter Vocal)
Studio Apartment feat. Blaze – The rising sun (MuthaFunkaz Sun Rising)
Blaze & Palmer Brown – Shine (Shelter Vocal Mix)
Blaze – How deep is your love ? (Timmy Regisford Mix)
Blaze – Love comes around (Klubhead vox)
Angie Stone – I wish (Main Vocal Blaze Mix)
Sunshine Anderson – Force of nature (Vocal Mix)
Blaze ft Alexander Hope – What can U do (Klubhead Vocal)
Blaze – Live the happy life (Klubhead Vocal)
Blaze – What we need is love (Audiowhores Edit)
Blaze – Gloria's muse (Karizma Mix)
Dj Jori – Only you (Blaze Shrine Vocal)
Blaze – Lovelee Dae (Original)
Blaze – Breathe (Ashley Beedle's Mix)
Blaze – Just a little different
Alex & Rai – For the love of you (Classic Vocal Mix)
Gerideau – Take a stand for love (Blaze Mix)
Leela James – Good Time (Jihad Muhammad & Blaze Vocal)