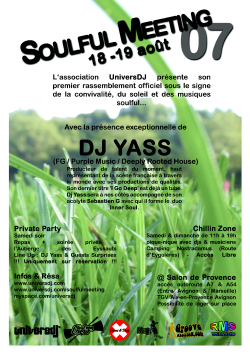 Playlist
Roland Clark & Steal Vybe – See The Light (Steal Vybe Main Mix)
Libby Jones – Healing Train (Orginal Mix)
Roy Davis Jr. & Peven Everett – Don't You Dare Stop Loving (God Mix)
Restless Soul feat. Zansika – And I Know It (Vocal Mix)
Dj Shaheer Williams & Micheal Watford – Faith (Vocal)
Byron Stingly presents EL – Knockin (83 West Vox Mix)
Jihad Muhammad feat. Lorraine Reid – Open Your Eye's (UPZ Remix)
Kenny Bobien feat. Ann Nesby – Spread Love (Vocal)
Beppe Gioia (Garage Family) Ft Michael Watford – The Doctor Remix
Terry Hunter & Byron Stingily – I Waited For You (MainPass)
Terrence Parker feat. Edmound Griffin – Im Happy (TP's Original Vocal Mix)
Oblong featuring Adam Parker – Playing On My Mind (AaronRoss)
Have a nice soulful summer !