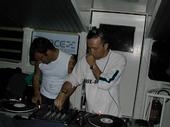 DJ Therry is the other DJ for the Jerk House Connection. (http://www.myspace.com/jerkhouseconnection)
He is a large collector of vinyls and plays Disco funk, House, Garage and Deep.
He is the wisdom behind the group; One of his many highlights include playing at the 2001 Gay Pride in Marseilles where he managed to get over 4000 people dancing before playing again 100km away and two hours later, a now mythic mix on the beaches of Hyères during the After Off for the Aquaplaning festival, in front of artists and other professionals of the music business.
He's played in several lounges and discos which include: ( Le Bar à  Thym, L'Endroit, Le Quemao, L'Octopussy, Le Cesar, L'Enk, Le 113, Le Yacht Club, Le Dizzy Club, Le Divino.)
He has also mixed for the following festivals to name a few:
LGP party at the Dock des Sud (Marseille)
The new fashion designer festival (Hyères)
Aquaplaning Off; after of the Aquaplaning 3
The Phare festival (Toulon)
The Yellow South Week at Wax (Paris)
Midem 2002 at Sun 7(Cannes)
Hair Style and Co Cabaret Sauvage Party (Paris)
5th Exposition of nowadays music (Toulon)
Sunslice Festival (1st part of Dennis Ferrer and Jérôme Sydenahm as well as after)
Musical Festival of new talent (Toulon)
Mars Attac (Marseille).
Ibiza World Tour 5 (Plan de Campagne)
He has hosted a radio show with Dj Bool on Radio Active and organised with the latter and another DJ the Change various parties in 2004 and 2005.
At present he is the resident DJ at the Bar / Restaurant / Lounge La Vague in Six-Fours.
Myspace : http://www.myspace.com/djtherry